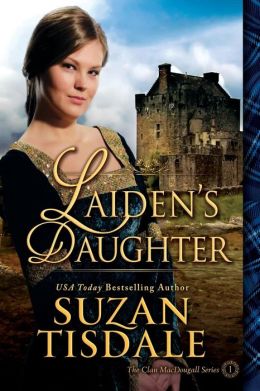 Title: Laiden's Daughter
Author: Suzan Tisdale
Website: http://www.suzantisdale.blogspot.com/
Genre: Historical Fiction
Length: 318 pages
Buy:
AMAZON
Scotland, 1344
She believes men are not honorable nor are they kind-until she meets one that changes her heart forever.
Betrayed by lies told before her birth, Aishlinn is raised by a harsh and cruel stepfather. Her life is forever changed one horrifying night when she is forced to flee England for the safety of the Scottish Highlands. Rescued by a fierce band of highland warriors, Aishlinn soon learns that honorable men do exist. She finds a strength she never knew she possessed and it will be tested to the limits when she is forced to make a heart-wrenching decision…allow the English to kill those she loves, or surrender for the crime she committed.

She is everything he never knew he wanted in a woman….

As a fierce highland warrior, Duncan McEwan has survived numerous battles, bed countless women, and survived a horrific storm at sea. He has scaled mountains and even survived hand-to-claw battle with a cat-o'mountain. But none of that could have prepared him for how his life forever changed one fateful spring day when he rescued a lass from a freezing stream. He will do anything to keep her as his own and will risk everything to keep her out of the hands of the English.
Krystal's Review...
Suzan Tizdale's characters practically leap off the page and drag you away to her world of 14th century Scotland where hunky highland men wait to sweep you off your feet!
I instantly fell in love with Duncan and his mischievous personality. Aishlinn was inspiring and I rooted for her through the whole book. It was non-stop action (just the way I like it) and if something wasn't happening to poor Aishlinn, she was creating problems without realizing it!
The scenery and history was seamlessly woven through the story and the language was also very well done.
Now for the pink parts.... This book was beautifully done and wrought with sexual tension between Duncan and Aishlinn. The love scenes were tender, passionate, and I wanted to read them over and over. They will leave you sighing with satisfaction, I promise!
Fabulous Happily Ever After and I can't wait to read the next book. I hear they are about Duncan's friends!